Buy Online from Nordic Creamery for the Best Tasting Butter & Award Winning Wisconsin Cheese in the Country!
We offer a variety of handcrafted cheeses and butters made from some of the best and freshest goat's and cow's milk in the region.
Our Cheeses include:
Aged Cheddar Cheese
Mild Cheddar Cheese
Feddost Cheese
Mild Cheddar Smoked Cheese
and more
We also offer a wide variety of butters: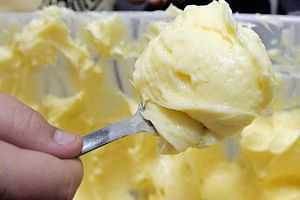 Harvest Butter
and Pepper Butter
Our goat and cow's milk have met the highest standards in Wisconsin. Buy our handcrafted cheese on-line and you'll experience some of the finest cheese made from hard work and love.
Looking for the BEST Holiday Gift?
When you're not sure which of our delicous products to give as a gift, try our Electronic Gift Certificates! These wonderful gifts can be ordered at ANYTIME and are INSTANTLY delivered, so you can even order them on Christmas Day! Just enter the amount, the name and address of the recipient and message you'd like to share.
Nordic Creamery - Just wins big at the US Championship Cheese Awards!
Nordic Creamery™ artisan butters are crafted by Al Bekkum, a long-time licensed Wisconsin buttermaker and cheese crafter. Just like his specialty and artisan cheeses, Al is really persnickety about his milk sources... both goat and cow milk... for his collection of artisanal butters.
At the 2017 US Championship Awards Nordic Creamery took home the gold….two golds and a silver! Winning are….
1st place- Cinnamon Sugar Butter
2nd place-Garlic and Basil Butter
1st Place- Cultured Butter
Recommended items
Upcoming Events & Markets